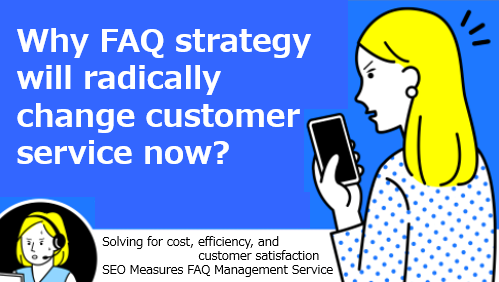 Conventional customer service drives customers away!? Consumers today demand a self-resolving CX of FAQ.
In 2020, the COVID-19 forced us to change. Businesses in many industries had no choice but to drive digital transformation (DX) to live with the pandemic. Today it looks as if this change decides the outcome of business. Is that really the case?
In the first place, DX has been in progress for more than a decade. The reason for this was not "measures against virus infection", but "increasing customer satisfaction" which is a very natural marketing shift. Now, once again, I want you to focus on "customer satisfaction" which is an essential guideline for the service industry. Can you say that conventional customer service, which responds to all inquiries quickly and politely, has really increased "customer satisfaction"? Is the action of the inquiry itself already users' "dissatisfaction" actually? In other words, the point is that the cause of the fire should be resolved before struggling to extinguish the fire. In fact, this is the most important point that decides sales outcomes of current companies.
Did consumer trends change dramatically from before the era of living with COVID-19? Satisfaction is a key not only to customer service, but also to FAQ.
First of all, I would like you to see the following data in order to unravel "customer satisfaction" which is the key.
"81% of customers attempt to self-resolve their issues before contacting support.(Harvard Business Review article partial quote )
https://hbr.org/2017/01/kick-ass-customer-service
"91% of users want to use the FAQ if it is on the Web."
(PR TIMES article partial quote) (link available in Japanese only)
https://prtimes.jp/main/html/rd/p/000000003.000006937.html
"In 80% of website visits, end pages such as FAQ are directly browsed not through the top page."
(Internal investigation)
As the fact that can be read from these data, more than 90% of users want to "solve by themselves efficiently on the Web." This trend is particularly evident from Millennials to Generation Z (purchasing groups under the age of 40), which already leads the economy significantly.
It is just creating right FAQ content as required on the Web and making it efficient and easy to understand for users. However, It is easier said than done. The important thing in FAQ is a process that is how various customers' voice is systematized without omission and the best answer (support content) is prepared. This will require a huge amount of hearing information and handling examples, and a pattern analysis of the information and a thorough investigation of the response examples. Moreover, quick information sharing will be essential. Furthermore, in order to effectively get it into the eyes of users, it is also necessary to take SEO measures on the Web. Is this possible with the flow of conventional customer operations? When considering the cost and effort required for it, most companies would hesitate.
However, what if there is an ideal way to operate the vast process at a low cost and easily? In fact, the "SEO Measures FAQ Management Services," which transcosmos has recently launched, is exactly the way.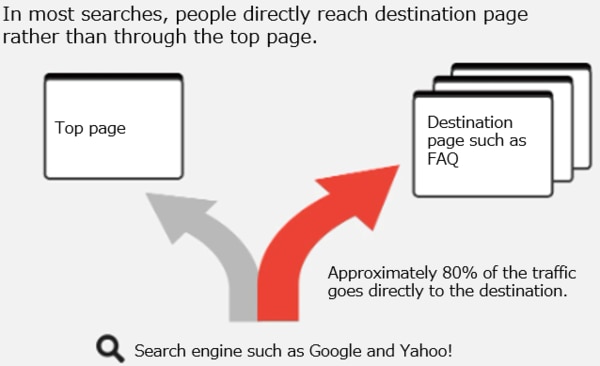 The savior to improve the conventional business flow landed in Japan.
WixAnswers® will dramatically reduce costs and improve quality.
To be accurate, this service is "a full support service for the FAQ strategy, including the introduction of CRM (Customer Relationship Management) system that makes customer service operations efficient." It may be a little difficult to understand, so let me explain it step by step a bit.
In fact, as to this CRM system introduction example only, it is already spreading in each industry around the world, led by enterprise companies across the United States. The results have been marked as "customer satisfaction," leading to improvement of repeat rates and corporate credit, as well as sales increase. However, while some conventional CRM systems require advanced operating techniques and specialized staff, even if cost reduction is achieved by system introduction, it is pointless to spend a large amount of cost for the operation.
Therefore, the key to this service is the introduction of "WixAnswers" which has successfully solved this problem. This WixAnswers is a CRM system created for optimizing in-house CS by Wix.com, Inc which has a huge share of the website building platform. It is like a comfortable kitchen made for myself by one of the best chefs. The best performance can be expected without doubt. And, the important point is surely its excellent UI (usability). It doesn't need even expertise or training, and everyone can intuitively handle it. Furthermore, various content such as phone calls, email, and chat can be centrally managed in the cloud. Therefore, it is possible to instantly share customer trend analysis and response patterns anytime and anywhere (also applicable to working from home in the United States). The shared information is also clearly visualized, and everyone can see all the status in a moment. Speaking with the words of Mr. Amimoto, the representative director of Proz. Who landed WixAnswers in Japan, "it is attentive"
In response to the demand of Japanese companies that will grow in the future, the WixAnswers will also be upgraded in detail for domestic use. In other words, it is promised that it will be even easier for us to use. However, the service introduced this time is not limited to the introduction of WixAnswers.
Support for "data analysis" of large amounts of aggregated information and creation of "FAQ content" that is optimal and highly readable
I think you understood that CS operations become dramatically efficient at a low cost by introducing WixAnswers. However, this alone is only a cost reduction. The key is the strategic element of how to create the "customer satisfaction" users want by frequently asked questions about high-quality support information that is scrutinized in the CRM system (although that alone is fully effective).
There is another highlight in this service. It is "data analysis and FAQ page creation support" by transcosmos. Think of it as a process by which a "professional group" with customer service performance from more than 1,000 companies sublimates the vast data of WixAnswers into "high strategic elements." A dedicated analytics team analyzes response logs of contact center and FAQ covering rate on corporate websites, and selects the best FAQ element based on the know-how. In addition, a dedicated content writer drops it into highly readable content, and creates high-quality FAQ content.
In other words, "WixAnswers" completes operational efficiency that is defense, while "strong professional groups" do strategy building that is offense.
At this point, it embodies a "strategic element" that is too sufficient, but it is not yet complete.
In fact, the biggest advantage of this "SEO Measures FAQ Management Services" is "SEO" at the beginning of the service name.
FAQ can be utilized for all questions with the latest SEO measures.
In addition, users' demand is responded with "zero clicks."
Now, let's take a look at the trend of corporate website access mentioned above again.
"In 80% of website visits, end pages such as FAQ are directly browsed not through the top page." (Internal investigation)
As a reason for this trend, we should also consider the fact that search within the website does not function. Therefore, the SEO measures of this service will first improve this part. In search within the website, it enables search with not simple keyword matching but natural sentence. With the introduction of a learning-driven FAQ engine, FAQ that users require can be displayed for questions of any sentence. This alone will significantly improve the efficiency of users' self-solving. However, this is not the only SEO measures of this service that will raise "customer satisfaction."
You know that the Google search screen we casually see is evolving rapidly. Google determines what answers users want in the words they search (not AI) and displays the appropriate answers in an "everyone-friendly format." This is a rich result. In particular, content with clear questions and answers, such as FAQ content, is likely to appear on Google screens as rich results. In other words, the process of searching, selecting, and stepping down hierarchy is omitted for users. It is so-called "zero-click." It goes without saying how efficient and easy to see it is for users. In fact, the SEO measures of this service support Google-rich results, and are also ones to increase the frequency of "zero clicks."
In other words, "customer satisfaction" is very efficiently increased by making FAQ easy to read both in company's own website and from outside the company (Google Search) and promoting self-solving rate of users.
I would like you to remember the user trend data mentioned above again.
"91% of users want to use FAQ if it is on a website." (PR TIMES)
I think it can be said that this service successfully achieves the 91% user demand. This is precisely the CX itself, which raises the "customer satisfaction" from Millennials to Generation Z leading the current economy. In other words, the "SEO Measures FAQ Management Services" is an innovative service that fundamentally changes the way of conventional customer service operations.
CX of FAQ entries raises customer satisfaction level.
The knowledge management realizes everything at a low cost.
Now, this is the full scope of the "SEO Measures FAQ Management Services," but there is a thing I want to say at the end. This is an advanced service that can fully utilize the latest systems and professional know-how, but it is not intended only for large companies. This is because the service can be introduced starting from only 0.1 million yen per month. (The initial cost starts from 0.3 million yen.) In other words, a strategic platform built by a giant company of several trillion yen scale is now easily available to anyone on the scale as is. Ten years ago, it would have been impossible.
As long as "customer satisfaction" is at the core of the service industry, this high-precision knowledge management can be the center of strategy. This service, which achieves "low cost," "efficiency," and "effectiveness" in all industries, is essential for the ever-evolving DX era.
transcosmos is a global and one-stop solution provider that offers digital marketing, 5A analysis, eCommerce and contact center support that adds value through optimizing cost and driving sales. For more information, please feel free to email us at;
Let's talk ✉:sales_global@ml01.trans-cosmos.co.jp