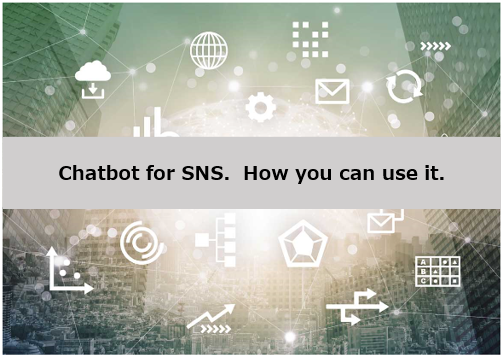 Chatbot for SNS. How you can use it.
6/16/2020 07:00 trans+
The number of SNS users is said to haved reached around 4 billion, and messaging apps are indispensable tools for both individuals and businesses. In fact, we have a number of operations worldwide involving "WhatsApp", "Facebook Messenger", "WeChat" for China and "KakaoTalk" for Korea. Today, we would like to focus on "LINE" that is preferred by more than 60% of SNS users in Japan.
We started providing chatbot solutions for SNS in 2017 and demand for this has been rising year by year. Smart phone is now the main source of information for the users and messaging apps or chat is the preferred method of contact for those who have experienced it.*
transcosmos has introduced and runs many chatbot solutions based on its operational experience accumulated over time through various contact-center business to date and IT experience such as tool development and data exchange with partners like LINE. Following are some of the examples.
(*) Source: "Survey on Consumer-Corporate Communication 2019"
(link available in Japanese only)
Chatbot for SNS.
For Customer support
Objective:
- Reduce call volume.
- Realize 24/7 operation
- Provide customers with more popular option of contact channel: SNS.
Hokkaido Air Water / Efficiency improvement
Analyze the contents of inquiries about LP gas and kerosene, and build a chatbot scenario. By transferring the customer support operation to chat and chatbots on LINE instead of phone calls, it is now possible to automatically respond to 1/3 of the approximately 25,000 inquiries per month.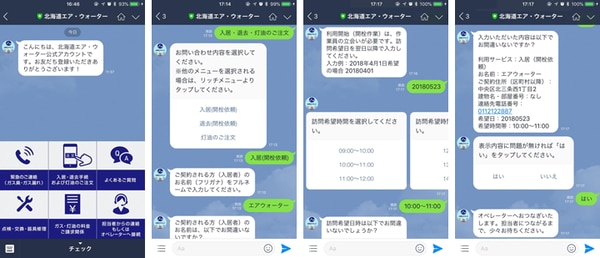 Figure: [News Release] transcosmos starts providing services to respond to inquiries via LINE to Hokkaido Air Water - https://www.trans-cosmos.co.jp/english/company/news/180619.html
ANA / Multilingual support
When you make an inquiry on our website or LINE, it recognizes the language you entere and reply in English or Japanese. Analysis of inquiries also improves self-resolution rate and customer satisfaction accordingly.
[ANA News Releases] https://www.ana.co.jp/ja/jp/site-help/share/contact/chatbot/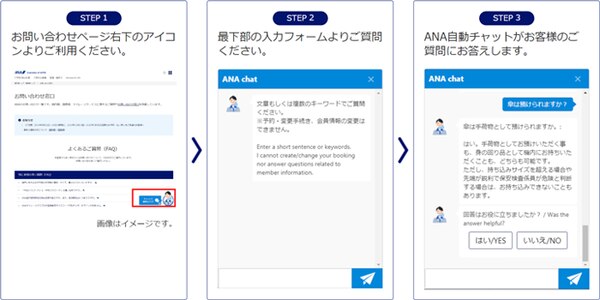 Figure: [News Release] transcosmos supports the establishment and operation of the inquiry response service using "ANA automatic chat" - https://www.trans-cosmos.co.jp/company/news/200309.html
For Product Search
Objective: Facilitate product search and improve user experience.
Electrical appliance maker / Search for products and promotional materials on LINE
Product information, instruction manuals or professional documents like blueprints can be accessible on LINE chat just by entering the product number, which makes onsite repair and support much easier for electricians on the field.
For Reminder
Objective: User/usage retainment.
Pharmaceutical company / LINE-based medication support
It takes continuous doses for some of the prescribed medicines to be effective as expected. Chatbot reminder comes in play here. The bot will just talk to you at the time and date you set to remind you of taking the medicine. No hassle and you never miss the right dose at the right time.
For Online application
Objective:
- Improve user-friendliness -Offline to online
- Reduce errors seen in offline application.
Municipality / Electronic application for services
You know how cumbersome and time-consuming it is to apply for city services. First you must physically go to the municipal office, go through all those paperwork by handwriting and … one small mistake will force you to do it all over again. Our chatbot solution can change that. Just chat with the bot on SNS or the website and fill out the information required. Then you can pick up the printed hardcopy from a device installed at a municipal office. You can do this anytime you like and the bot helps you through answering your questions 24 hrs a day. Checking your spelling and those small mistakes is done as you type in, reducing the workload of city hall staffs and saving your time.

For Automated voice response
Objective:
- Improve efficiency of call operation.
- Make better use of the call data.
Major companies / Reception work for seminar
This is another area where chatbot can come in handy. The automated voice hears out callers for the information required to sign up for seminar and save your work.
We are also working on utilizing the call history to trigger confirmation messages when booking is complete and follow-up messages after the seminar.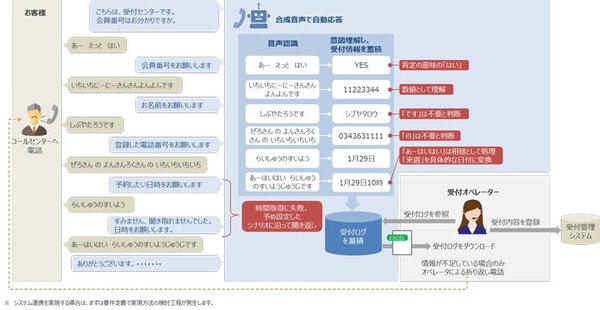 Figure: transcosmos launches "automatic telephone reception service" utilizing voice recognition / intention understanding algorithm - https://www.trans-cosmos.co.jp/company/news/200416.html
Tips. How you can use it.
The way people use chat and the related work keep changing. chatbot must respond to that. I Here are 3 tips for successful introduction of chatbot.
(1) Tuning according to usage conditions
The scenario set when the chatbot was first introduced is just a hypothesis. It is necessary to periodically review how it is actually used or tendency of inquiries through phone and email and scale responses.
(2) Strengthening chatbot x manned chat cooperation
Minimize the risk of disappointing your customers by building a system that allows them to switch to manned chat in case the bot cannot solve the issue. Make availability of the chatbot visible to those about to go for manned chat. When the manned chat takes place first, then lead them to the bot after inquiry for paperwork. These should help to reduce operator's workload for higher efficiency.
(3) Data exchange and Tools
Product information can be stored on the chatbot system but it is definitely better if it syncs with the original database and keeps up to date like our solutions does. Combined with marketing tools, the chatbot can go further such as sending suitable contents to users based on the inquiry history or order status.
---
While we took LINE as an example in this article, we manage a variety of programs worldwide using a "WhatsApp", "Facebook Messenger", "WeChat" for China and "KakaoTalk" for Korea to meet your needs.
The transcosmos group has more than 50,000 professionals in 167 locations in 30 countries around the world. Based on our experience with approximately 3,000 clients including many international companies, we can provide you with the best solution as a global partner.
Let's talk ✉:sales_global@ml01.trans-cosmos.co.jp