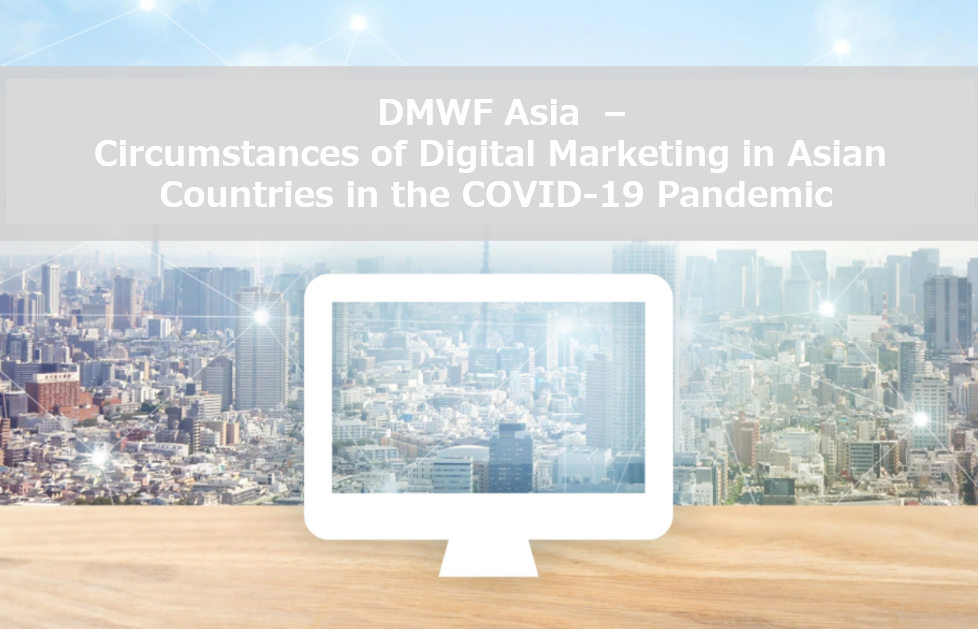 DMWF Asia - Circumstances of Digital Marketing in Asian Countries in the COVID-19 Pandemic
A virtual conference of DMWF Asia (Digital Marketing World Forum Asia) was held on December 2. DMWF has been introducing trends related to topics such as digital marketing technology, VR, artificial intelligence, influencer marketing, UX, CX, e-commerce, content marketing, data analytics, mobile, and practical examples targeting the global digital marketing community for over 12 years.
A Virtual conference on a continental basis was held in 2020 under the influence of the spread of COVID-19. At the Asian event, which we participated in this time, 25 people appeared on the stage. They were corporate sales representatives of main platformers and digital marketing managers of user companies. As the main theme, trends in live commerce, cross-border sales, and data-driven marketing in the COVID-19 pandemic were introduced.
Particularly, we would like to introduce some examples of data-driven marketing, and social commerce that is becoming active. The importance of these have been pointed out in many sessions.

Social Commerce is Becoming Active in the COVID-19 Pandemic! Live Commerce and Cross-Border Sales Utilizing Facebook are drawing People's Attention
The usage rate of global social media increased in the COVID-19 pandemic. In addition, social commerce is becoming active with the background of each major social media enhancing its shopping functions.
Especially in Southeast Asia, the high usage rate of Facebook has led to a rapid increase in social commerce on the same platform. Facebook itself has been also focusing on providing shopping solutions for "interactive commerce," "live commerce," and "cross-border sales."
1.Loonny Store: Facebook x Live Commerce / Interactive Commerce
A popular apparel brand Loonny Store in Thailand had long been successful in sales increase by conducting live commerce on LAZADA, the largest online marketplace in Southeast Asia. We wanted to utilize other platforms for further sales increase. However, it has been difficult to manage orders in real-time while conducting live commerce. Particularly, the loss of sales opportunities due to the oversight of customers' comments had been becoming a problem to be solved.
Therefore, we utilized the tools of Shoplus that had been providing a solution specialized for social commerce utilizing a distribution function of Facebook Live and AI of Facebook Partner.
Shoplus's tools enables users to identify the viewers of live distribution who have left comments of buying intention. In addition, via Facebook Messenger, the process of received orders, like accepting orders of products, issuing invoices can be automated from chat bots. This allowed the Loonny Store clerks to concentrate on product introductions, significantly reducing the order confirmation work to just a few minutes, which had used to take about half a day. The AI chat bots can accept orders from viewers on time. As a result, we were able to increase 20% of received orders in the live commerce and 15% of the average purchase price.
<Image of live Commerce was Conducted by Loonny Store on Facebook>
2.QUEENSHOP: Facebook x Cross-Border Sales
QUEEN SHOP, a popular apparel brand in Taiwan, wanted to strengthen its overseas expansion to Malaysia and Singapore. However, the company lacked in human resources to create EC sites for overseas markets. They also lacked in human resources for marketing operations. They utilized the tools provided by SHOPLINE, a Facebook partner. QUEENSHOP utilized the tools provide by SHOPLINE to create EC sites and support social commerce.
SHOPLINE has been supporting an investigation of creating a strategy for entering the Malaysian and Singapore markets, creating EC sites, localizing both logistics, means of settlement, and advertising campaigns on Facebook. For example, when utilizing Facebook advertisements, we conducted a dynamic advertisement and retargeting for those who had previously been interested in QUEEN SHOP's products with the aim of raising familiarity of the QUEENSHOP. We targeted women aged 25 and over who were highly interested in fashion.
As a result of these practices, QUEENSHOP succeeded in achieving 82% growth in one month. Also, the new customer acquisition rate increased by 41%, and the rate of advertisement collection improved by 81%, making a good start in overseas sales.
<QUEEN SHOP's Global EC Site Supports Multiple Languages and Currencies>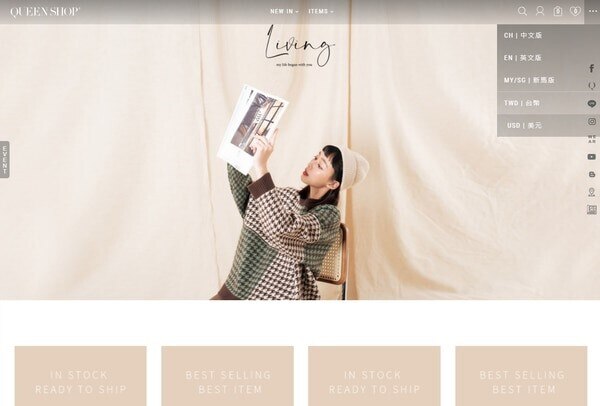 These cases show how social media has become more important in the commerce area. Therefore, Facebook claims that by combining all the providing functions including shopping, it is possible to improve the shopping experience, and there is no way not to utilize it.
Data-Driven Marketing, Which is Drawing People's Attention, is Utilized Both Online and Offline!
The importance of data-driven marketing is being pointed out in many sessions. Particularly, with the drastic changes in the consumption activity due to the COVID-19 pandemic, and the global spread of 5G communication, it has become easier than ever to support the use of digital media and acquire data related to various consumption. By utilizing these data, companies can quickly grasp the changes in the consumption activity, and incorporate it into their measures to help create a highly competitive brand formation.
In supporting data-driven marketing, we can tell that platformers tend to actively provide their own data. Here, we introduce the practices of ZAL0RA and FoodPanda. ZALORA a major fashion EC site and FoodPanda a food delivery service. They are introduced as the latest examples of data-driven marketing in Southeast Asia.
ZALORA has Utilized its Own Data to Support from Development of the Brand Product to Sales
ZALORA, a major fashion e-commerce site, has been supporting each phase from brand recognition to purchasing by holding offline events as well as online as part of the support for entering Southeast Asian market.
However, it is difficult to hold offline events due to the COVID-19 pandemic. They have been strengthening brand support based on their own sales data that are being owned in their company, as well as regional data, sales data of each product, and each regional characteristic knowledge of the Southeast Asia region. Specifically, since April 2020, we have started to provide a data tool called "Trender."
On Trender, we can get insights from the transaction data between 6 markets. For example, in the COVID-19 pandemic, it is said that sales of the apparel industry were decreasing due to fewer opportunities to go out. However, according to Trender, dresses were actually the worst selling product, while sales of sports equipment were in good sales. Brands opening in ZALORA will be able to use Trender for marketing, merchandising, and product development.
<Image of Utilizing Trender>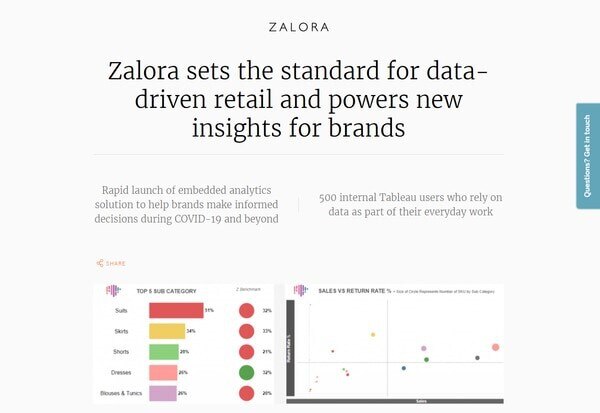 Quoted from the Tableau website: https://www.tableau.com/solutions/customer/zalora-sets-standard-data-driven-retail-and-powers-new-insights-brands
FoodPanda Uses Dynamic Outdoor Advertisement Utilizing Sales Data and Weather Data
Moving Walls Group CEO Srikanth Ramachandran, who supports outdoor advertisement, introduced that real data-driven marketing has become a trend lately. Particularly, with the spread of the COVID-19, vending machines, thermometers, and hand sanitizers had been installed in retail and public facilities in Southeast Asia between June and September 2020. We anticipate an increase of such practices of dynamic digital outdoor advertisement that utilizes them from now on. Also, as a concrete effort, we introduced the practices of FoodPanda, a food delivery service.
FoodPanda made an effort in the Philippines to launch different outdoor advertisements depending on the time of day by combining its sales data with weather data. Specifically, delivering creative content such as advertisements that encourage pick-up a coffee during commuting hours, advertisements for ice cream shops on a sunny day, and menus that can be enjoyed later at home after returning home on a rainy day during rush hours.
<Comment>
Through the session, we once again felt the importance of data-driven marketing. Particularly, the COVID-19 has significantly changed consumption activity. Therefore, it is important for brands and retailers to utilize data in order to come up with the measures that win the changes of heart and mind in customer needs.
Among the various sessions that we watched this time, what we felt particularly interesting was that the expansion of the possibilities of real data-driven marketing from the pandemic, dynamic digital outdoor advertisement at vending machines and hand sanitizers, the chance of delivering examples of dynamic digital outdoor advertisement has been increasing in the number of cases. In recent years, the importance of creating a seamless online/offline experience had been questioned in order to improve customer experience. However, until now, mobile devices has often been considered as the core that connects those experiences. In the future, data-driven marketing utilizing dynamic digital outdoor advertisement may be introduced as a method.
In the future, we will watch the advanced efforts of real data-driven marketing anything else besides Southeast Asia.
transcosmos is a global and one-stop solution provider that offers digital marketing, 5A analysis, eCommerce and contact center support that adds value through optimizing cost and driving sales. For more information, please feel free to email us at;
Let's talk ✉:sales_global@ml01.trans-cosmos.co.jp