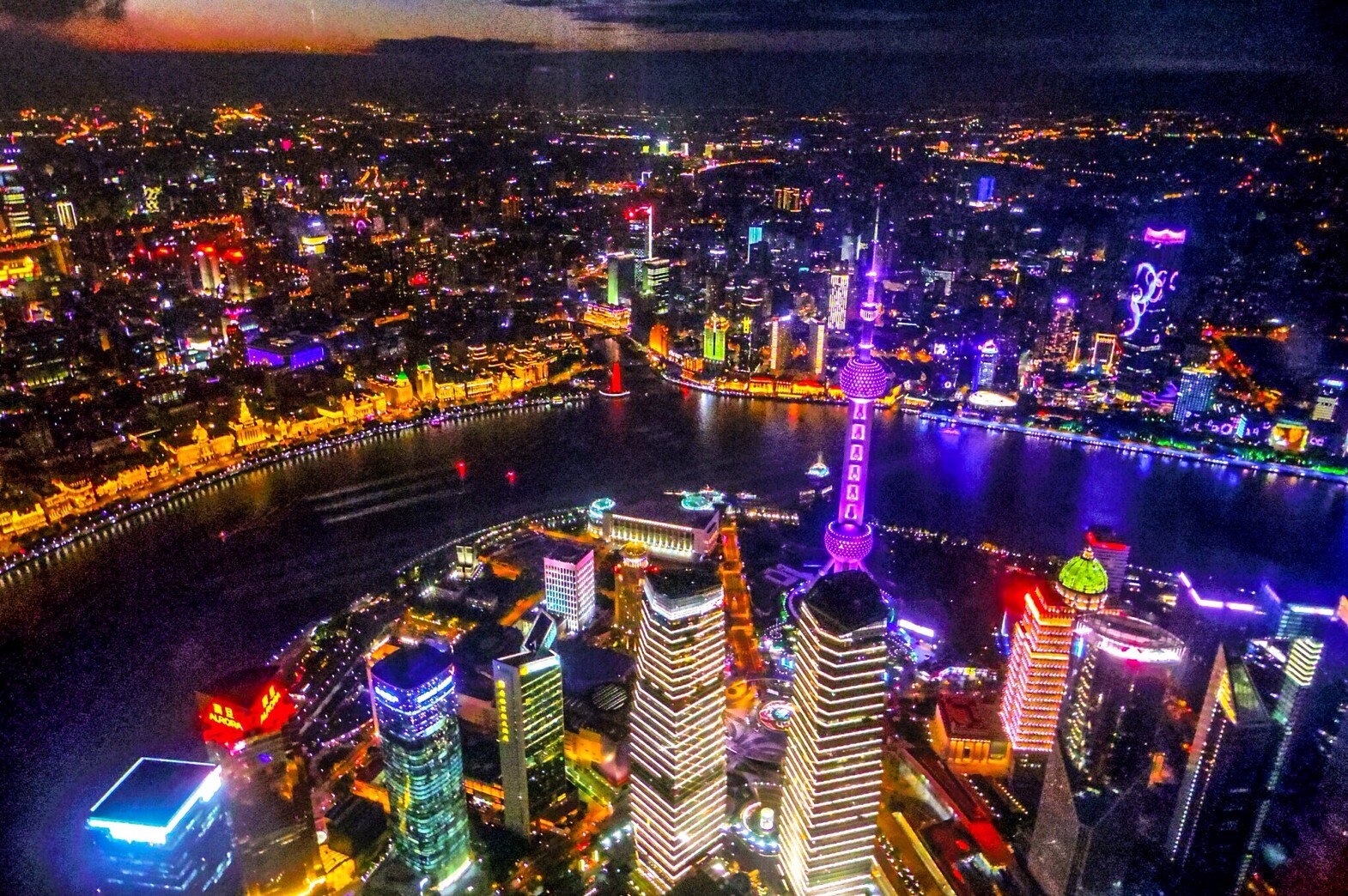 Live commerce in China today. How to use it and Alibaba's strategy
10/15/2020 07:00 trans+ (trans Plus) Editorial Office Column Cross-border e-commerce China's e-commerce
Live commerce in China has proven to be a tremendous sales driver in recent years. Alibaba came out with a plan in November 2019 to collaborate with international influencers and popular products while Tmall International announced "Tmall GLOBAL walk of fame" or "Wang Zi Project". In this article, we take a close look at live commerce in China today and Alibaba's strategy.
Contents
Live commerce in China today. How to use it and Alibaba's strategy
Tmall Intl focusing on live commerce.
"Tmall GLOBAL walk of fame" (Wang Zi Project) refers to a plan to sell high-quality products around the world through live commerce in collaboration with celebrities and influencers.
"Wang Zi" is an influencer even more influential than "Wan Hong". The difference between the two is whether their influence gets across the border or not. "Hong" means red, the color that Chinese officials used to wear during the Tang dynasty and only the high-ranking ones were allowed to wear purple, "Zi".
An American socialite Kim Kardashian has partnered with Taobao's # 1 influencer in China, Viya. They live-streamed through "Taobao live" and sold their own cosmetics brand "KKW Fragrance" perfume.
That was exactly the day when the "Tmall GLOBAL walk of fame" was announced (November 2019). Viya and Kim Kardashian later won the title of Wang Zi.
"Wang Zi" has given live commerce much more significance as a means of advertisement and promotion, helping the market take a huge leap forward.
Powerful promotion tool for e-commerce.
The influencers are boosting live commerce in China. This method of promotion emerged in 2017 and still kept growing in 2019. Today, the live commerce by influencers is recognized as one of the most effective promotion methods.
According to Tmall, the total transaction amount of "Taobao Live" on Double 11 in 2019 was CNY 20 billion that is USD3 billion*and is estimated to grow to CNY 500 billion or USD 77 billion* in three years.
In addition, the size of marketing by live commerce in China is expected to reach CNY 7.63 billion or USD 1.18 billion* in 2020 at the CAGR of 50.8%. 1.2 million businesses will be using live commerce to make the considerable size of market.
*1CNY = 0.15463USD.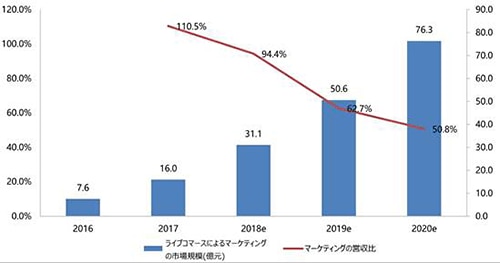 Market size and estimation of marketing for live commerce in China 2016–2020
(Data source: open data of iiMedia Research)
With advances in technology and new features on live broadcast platforms, live commerce marketing is gaining a lot of attention from many companies as it allows them to gain high traffic and exposure at low cost.
The conventional marketing process has often been considered as a funnel from recognition to purchase. Live commerce can be said to be sustainable marketing like the idea of 5A (Aware, Appeal, Ask, Act, Advocate) these days. So to speak, it is a model that connects Aware directly to Act.
Hot players
In January 2019, "Taobao live" has partnered with China's leading ranking platform to announce the top influencers ranking of Taobao live commerce based on the total transaction amount throughout 2018.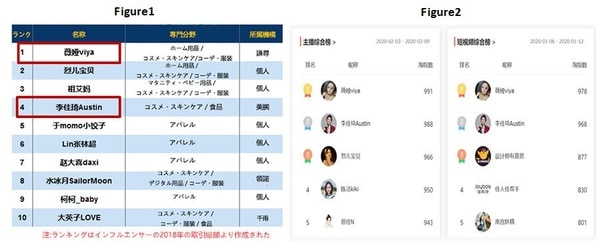 Figure 1 (left): Top influencers ranking of Taobao live commerce
Figure 2 (right): Ranking of live streams and short videos in general.
On Double 11 in 2019, the live streams of viya (Wei Ya) got 43.15 million viewers, and those of Austin (Li Jiaqi) got 36.83 million viewers, as described in the figure.
Why live commerce in China?
First of all, you save the trouble of choosing. Just sit back and enjoy watching the influencers you trust as they experience the products on your behalf. Then you get a better deal. When influencers perform live streaming, they often offer special promotions and discount. They also check out the suppliers and quality in advance for their own credibility, which gives consumers a sense of security. It's also fun and more exciting. Real-time communication, videos and reviews ... live communication is more enjoyable for consumers.
EC platforms in China are introducing live commerce mechanisms one after another. Here are some tips before you go for it.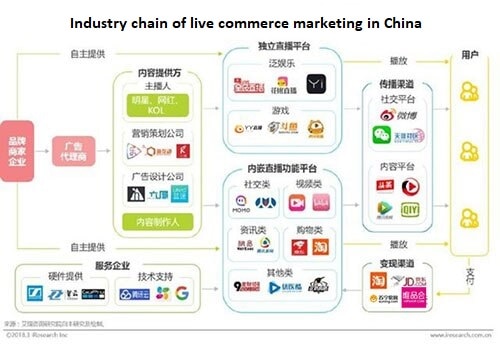 The industry chain of live commerce marketing in China
(Source: iResearch, The Market Research Report of Live Commerce Marketing in China 2018)
1. How to choose the right platforms
Taobao for clothing, cosmetics, and the products for pregnant women and babies
"Taobao live" is positioned as live commerce of consumer goods including interesting stories. Some categories such as apparel, cosmetics, maternity and baby products have a conversion rate of over 65%.
Kuaishou for average spend of 300 yuan and below.
The live distribution application "Kuaishou" is affiliated with many EC platforms such as Taobao, Tmall, and JD, and you can set links on the product pages to each EC site. Among them, "Kuaishou" is recommended for products with an average purchase of 300 yuan or less, low profit and high volume, and in-stock items. This is because the main users here in rural areas and the low-priced products tend to sell better.
TikTok for life services, daily necessities, and pet supplies
More than 60% of Tik Tok users are young people under the age of 30. Life services such as cosmetics, daily necessities, pet supplies, travel, and gourmet foods have a high affinity with the interests of young people, and sales at "Tik tok" are effective.
2. Right influencers for right products.
It is important to choose the right influencer for your products. Then, select the best-selling products that are accepted by as many people as possible and have high cost performance.
3. Promotion to maximize results.
Live commerce can be more effective when combined with various promotional measures (eg time sale, limited quantity, limited time offer, free gifts)
Live streaming on the rise amid COVID.
The COVID19 is causing major changes in lifestyle.
Consumers have been asked to stay home and the number of users who shop online has exploded in a short period of time. More and more businesses advertise and sell through live streams to minimize the impact of the pandemic. The platforms like Taobao Live, TikTok, Kuaishou and WeChat Mini Program" are coming up with new ways to support them through live stream.
At the online shopping event "Queen Festival" held on March 8, sales of "Taobao live" increased by 264% YOY, and the transaction volume hit the high of 650% compared with the same day last year.
As the countermeasures against the COVID seem to start working in China, the people's motivation to spend is gradually recovering and the live commerce is getting hotter than ever, attracting global attention.
If you expand your business into China, keep an eye on live commerce for the right partner.
Let's talk ✉:sales_global@ml01.trans-cosmos.co.jp